Day 14 - The End?
Posted by Lachlan - 23:17 on 29 July 2012
I can hardly believe fourteen days of digging have flown by. The last day was a busy one, as always, with some last minute recording. This involved drawing the whole side of trench 3 and Kay proved her secret talents in this by producing a fantastic drawing. These drawings help us understand both the nature of each context as well as their relation to each other. Then it was time to complete some paperwork in the form of context sheets just before lunch...

Meanwhile out in the field our road was taking a battering. Although there has already been a piece of pottery from one of the ditches we thought there might be something else left, so out came the mattocks. Having carefully recorded the ditches already the team removed a large amount of material which was sieved. Our strategy paid off and a lovely little horse shoe was discovered in the lower fill. This shoe is very small so is perhaps from a small native breed.

After lunch it was time for everyone to get shovelling and the back-filling began. We were very lucky to have some terram and lined the bottom and sides of the trench. This will make life much easier for anyone going back into the trench to get straight back to where we left off without too much head scratching. Of course future excavators will first need to get through our back fill, all put back at top speed.

After the back-filling out came the barbeques and a wee celebration to say thanks to all those who have come along to help us out.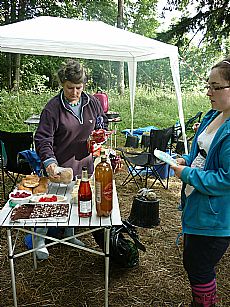 The dig this year at Foulis has been good fun with lots of interesting archaeology. Thanks to everyone who took part but it's not over yet, keep an eye out for updates on post-excavation workshops, dates and more information on our finds.
Your Comments
Comment by kay at 14:26 on 30 July 2012.
Aw--- I'm very proud of all we have achieved . It was a lovely, Happy, Dig.
Thank you all for making it SPECIAL.
kay x
Comment by simon at 12:35 on 31 July 2012.
Sorry to have missed the mad mattocking session at the end. Was the horse shoe from one of those tiny prehistoric species maybe? You must have got deeper than you thought with the mattocks!
---
Add your comment below
Recent Blog Articles
Monthly Blog Archive
Sign Up to ARCH E-news