Bronze Age Pottery workshop
Posted by Susan Kruse - 09:57 on 21 November 2017
Bronze Age Pottery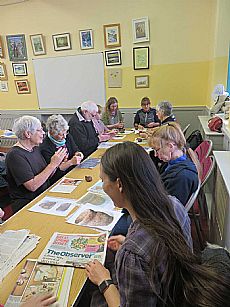 Our second workshop took place on 18th October at Dingwall Community Centre. It was great to see some people from the first workshop and a number of new faces.
I gave a brief background to the Bronze Age and pottery. Prehistoric pottery in Scotland begins with the Neolithic period (c. 4000-c.2500 BC), with several styles current in the Highlands including grooved ware and impressed ware. But at the beginning of the Bronze Age a new type of fine, richly decorated pottery comes to Scotland, along with new traditions in burial and metalworking. Previously these were published as stemming from an invasion of a new people (the 'Beaker people') but we now see the process as far more complex, and more likely migration and exchange of new ideas and practices. The beakers, food vessels and urns are generally found in burials.
Beaker from Fyrish near Evanton (left) in National Museums of Scotland and food vessel from Kishorn (right) in Inverness Museum and Art Gallery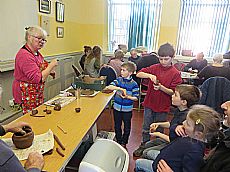 Then Pat Gulliver, potter and retired teacher, led us in practical issues of making a Beaker pot. Prehistoric potters could have made them by coiling or pinching, leading me to ask her if we can tell from existing pots which technique would have been used. Probably both was the answer, and if the interior and exterior are smoothed as well as most have been, it is not possible to tell from just looking. So participants tried both – those with only a short time did a pinch pot, but using this technique it was difficult to create large pots (large hands needed).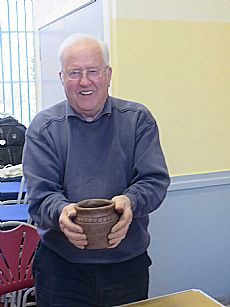 Those with more time tried coiling. All of us found how difficult it was to make the distinctive S-shaped profile on our beaker pots when coiling. In some cases we ended up with squatter versions – but very like food vessels which were current at the same time as Beakers. As the session went on there was growing respect for these early potters!

We then turned to decoration, using a variety of natural materials Pat had brought with her. We had pictures of a number of finds from the area, showing the variety of decoration used. Again, it was found to be harder than expected to recreate the regular geometric patterns found on Beaker pottery.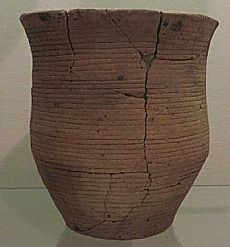 Look at the regular pattern on the beaker found in a burial from Dornoch. How did they manage to do this without a potter's wheel? We speculated that perhaps two people could have done it, one rotating a pot on a piece of board, the other decorating. Or perhaps very careful impression of rope – though this too proved difficult to provide an even line round the entire pot. Other decorative tools included the edges of shells to give a lovely serrated edge, ends of twigs, bits of pine combs and of course sharp points from bone and wood.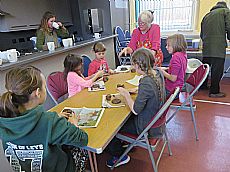 As with other experimental archaeology workshops, looking in depth at the objects and production led to a number of questions. Where was clay obtained? Not much detailed work has been done here but North Kessock & District Local History Society's Feats of Clay project showed that local clay was being used in the Bronze Age, and interestingly, different sources for clay moulds and daub. How would they have fired their pots? Current thinking is on open fires (and what implications does this have for winter pottery production?). Who made the pots – itinerant potters, specialised people in each community, everyone, men or women? We don't know.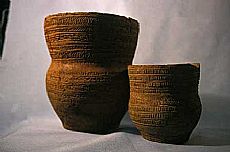 For the loans box Pat will be making a replica of a Highland beaker pot, probably the one from Balblair near Beauly now in Inverness Museum and Art Gallery(right).
Further information:
There are many illustrations of beaker pots from Scotland on SCRAN. There is currently no easy way to find illustrations of local examples.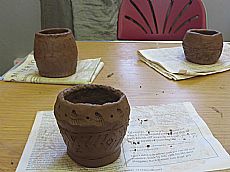 Some videos you may find interesting:

Making a BA Replica beaker
Graham Taylor. 2:41
Making the Doons Law Beaker
Graham Taylor. 3:12
Bronze-Age Pottery Workshop Prehistoric Firing
Graham Taylor. About a minute long.
Decorating a Bronze Age Beaker – Graham Taylor
Replica of a pot found on Bute. Graham Taylor 57:15
Going for Bronze – Making a Reconstruction Bronze Age Pot
Making and firing of a reconstruction Trevisker ware bronze age pot at Powdermills Pottery on Dartmoor (2011). Also discusses the find, getting clay etc. Coiling. 14:59
Making a Bronze Age Encrusted Urn
Graham Taylor. 2:35
The Experimental Archaeology: Learning about technologies in the past project has been funded by Historic Environment Scotland and the Heritage Lottery Fund.
Your Comments
Comment by Paula C Williams at 17:01 on 21 October 2019.
Studying Mesolithic and Bronze Age with York Univ. and I am interested in reconstructing the crafts so really good to find your site.Will watch the videos. Paula 914
---
Add your comment below
Recent Blog Articles
Monthly Blog Archive
Sign Up to ARCH E-news