Flint Knapping [1]
Posted by Susan Kruse - 15:16 on 25 January 2018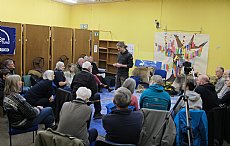 We had another fantastic session in the Experimental Archaeology workshops with James Dilley from Southampton University focussing on flint knapping. In the course of the day James demonstrated and talked, producing a range of objects for the loans box, and then guided people in the first steps of how to do flint knapping. James had brought with him flint nodules from England and some from Aberdeenshire and a wide variety of replicas.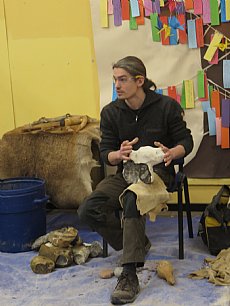 We watched in wonder as he started with a large lump of flint, and while he explained techniques of flint knapping, worked away at this to create a flint axehead. As he explained, it was not a case of brute force, but of tapping at the right angle and force with a hammerstone, gradually roughing out the shape. As flakes were struck off, he would note those that could be worked later into other artefacts, such as arrowheads or scrapers – clearly seeing properties in the flakes that only comes with a lot of practice. And since each rock is unique, we saw how he identified areas of the emerging axehead which needed fixing, discussing with us strategies to overcome them. In an hour we had a flint axehead ready for polishing. If, like so many of the Neolithic axeheads, it had been polished, he estimated it would take another 40 hours or work.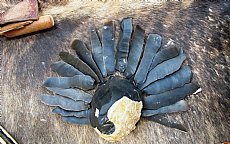 Over the course of the day he then made a Mesolithic microlith (as would have been placed in wooden arrowshafts), a thumbnail scraper, a number of blades from a core which was carefully prepared to produce long, sharp blades, another type of Neolithic axehead, and a Bronze Age barbed and tanged arrowhead – all destined for the loans box. For the arrowhead, he created the serrated edge using pressure from his legs, while using a copper-tipped point. He also showed us the difference if using antler points.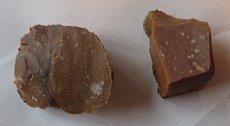 The Highlands do not have outcrops of flint, although some pebbles sometimes wash up on the shores. Our nearest outcrops are from Aberdeenshire, and James brought some examples of Aberdeenshire flint, a lovely rusty red-brown colour. He roughed out a scraper for us in a couple of minutes in this material too. In the Highlands many stone tools are made from other materials including quarz, and James noted that the techniques were the same, although flint was often easier to work. Certainly the amount of flint artefacts found in the Highlands shows they were importing objects and raw materials.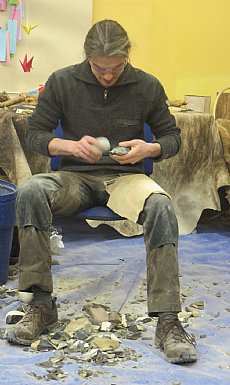 Combining practical knowledge of the craft with an in depth knowledge of the archaeological material has led, as in other workshops, to some insights into production techniques. James used different hammerstones for different tasks, and had a bit of sandstone to constantly buff the edges where he was going to strike to have maximum effect. For other tasks he used the antler tines. When to use which tool was a matter of experience.
As the pile of struck flakes and debitage accumulated at his feet, he noted that many of these 'waste flakes' were perfectly suited to be tools even without retouching, having sharp edges. In fact, he argued that many would be suitable for use as an arrowhead – and in which case, why go to the time and trouble to make the barbed and tanged arrowheads? Perhaps there was an element of prestige involved.
Flint knapping was not just a prehistoric activity, and James discussed production of gun flints in the 18th and 19th centuries.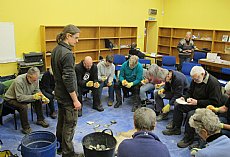 The hands-on sessions during the day reinforced our admiration for the skills of flint knappers. For many it was the high point of the day. We learned how to choose our angles, to use the right amount of force, and when we did it correctly, the satisfying sharp click which produced the desired effect. Many of us came away with the intention to have another go.
At the end of the workshop, James scooped up all remains to depose of so that they will not be found an mistakenly taken for evidence of prehistoric flint knapping! We also labelled all of the objects taken away as replicas.
Objects for the loan box: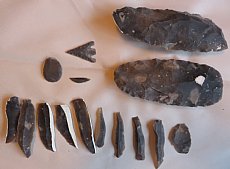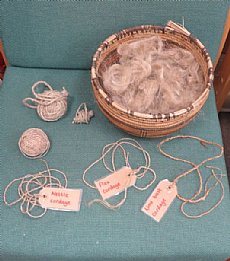 As an added bonus, James was accompanied by Sallyann Spence, who demonstrated making twine from flax, nettles and lime bast. She too has left us some samples for the loans box.
Photos: Alasdair Cameron and Susan Kruse
Further information:
Scottish Archaeological Research Framework (ScARF) panel reports in the Mesolithic, Neolithic and Bronze Age sections detail the current summary of state of knowledge:
Mesolithic artefacts
Neolithic Small knapped tools
Neolithic Axeheads
Coarse Stone artefacts from the Neolithic
Neolithic Special Stone Arefacts
Flaked lithics of the Bronze Age
Bronze Age Coarse Stone Artefacts
There is no one publication which features flint and other lithic tools from the Highlands. SCRAN (www.scran.ac.uk) has a number of pictures of flint artefacts from all over Scotland (free access is possible with many Scottish library accounts). For the Highlands these include:
Highland Community Timelines: an exploration of the heritage of eight Highland communities by Susan Kruse (published by ARCH) illustrates a number of stone objects from the Highlands.
Videos:
Making a stone axehead by James Dilley
https://www.youtube.com/watch?v=VDJ5gJxheRo
3:46
Making a flint axe by James Dilley
https://www.youtube.com/watch?v=ryMJ3c1gHuw&t=97s
3:18
Brandon Flint Knappers producing gunflints
https://www.youtube.com/watch?v=7XPEoiY3NnI
4:34
Archive film from the 1940s talking about making gun flints
The Experimental Archaeology: Learning about technologies in the past project has been funded by Historic Environment Scotland and the Heritage Lottery Fund.
---
Add your comment below
Recent Blog Articles
Monthly Blog Archive
Sign Up to ARCH E-news