Neolithic Carved Stone Ball workshop
Posted by Susan Kruse - 14:51 on 23 April 2018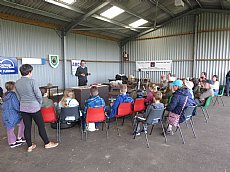 The April Experimental Archaeology workshop turned its attention to Neolithic carved stone balls. Chris Gee, an archaeologist from Orkney, came down to explore how these objects were made, providing us with a fascinating insight into these unusual objects.
Carved stone balls are about the size of tennis balls. They are decorated, usually with knobs (six being the most common, though sometimes with over a hundred). Dating from around 3000 BC, they are found almost entirely in Scotland unlike many other Neolithic artefacts, with the majority from Aberdeenshire. There is a small cluster in Orkney which led Chris to investigate these objects further. There are also examples scattered throughout the Highlands with a small group found near the Alness/Invergordon area.

Replica balls made by Chris and some of his stone tools
Although many are thought to be imports from Aberdeenshire, Chris noted that the Orkney examples are made from local stone, showing the importance of closer examination of others to see if we are able to match local stone and finds.
The type of stone also influences how much work is involved in making the ball. Chris estimated that roughing out a sphere from sandstone takes a few days, but double that if working on a harder rock. Examples are known from hard rock, such as a quartz example from Watten in Caithness. As we saw when exploring flint knapping, the smoothing of the object then takes considerable time, as will decoration depending on complexity. Chris used sandstone to smooth the surfaces.
Loch Lochy ball (left). The original is in the National Museums of Scotland. Right: The sphere at the start of work on Saturday...Other replica balls in the background.

Left: replica sandstone ball. Middle: work at the end of the Saturday. Right: work on pecking a sphere at the end of Saturday.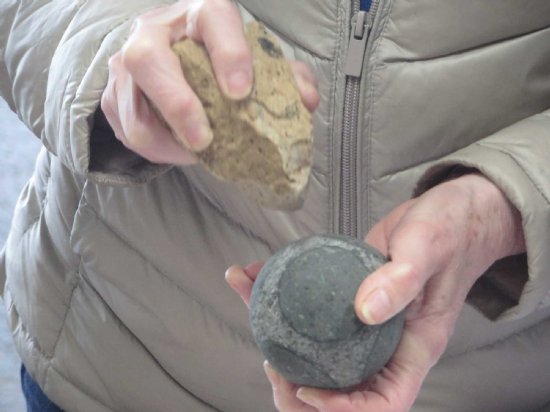 For the loans box Chris is making a copy of a ball found near Loch Lochy with six knobs, one of which has incised decoration. Before coming to the workshop he roughed out the sphere, and drew on the knobs. Participants at a school event in Strathpeffer and at the Saturday workshop then helped do the first pecking around the knobs using small hammerstones. By the end of the Saturday workshop we had made progress. As the knobs begin to stand out further, he will then use a smaller piece of rough stone to saw back and forth between the knobs. The final decoration will be etched on with flint.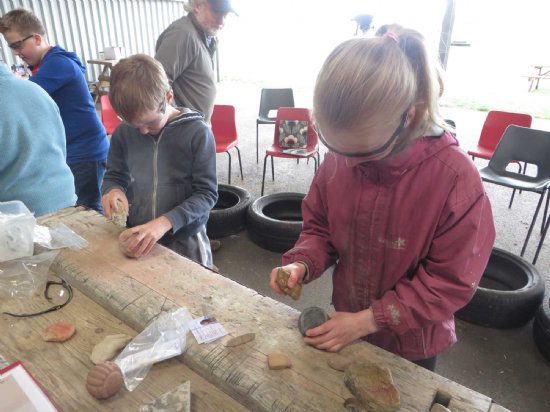 We also helped rough out a sphere in a piece of sandstone. This was surprisingly easy and fast to do. Chris talked us through the process of trying to keep it round with just rough measurements. A good sense of geometry was a bonus. Would Neolithic people have used a simple compass to keep things even or just have done it by eye? Probably the latter – there are plenty of examples of carved stone balls which are not symmetrical (these are the ones which rarely are displayed in museums).
And their purpose? There have been many theories, including fish stunners, games, weapons, weights and for unknown rituals. But all theories must account for the facts that few are damaged so they have not been thrown against hard surfaces, that they are usually single finds or (as in Orkney) in houses but not in graves, and there was an investment in time to create them (as we discovered). Some are very stylised and would have been difficult to tie round with cords and attach to sticks or other objects.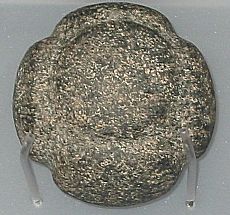 They were held in some esteem in later times as well. A few have been found in Bronze Age cists including at Kinlochewe. And during excavations at Tarbat church in Portmahomack a ball was found at the bottom of the crypt (pictured left. This is on display at Tarbat Discovery Centre).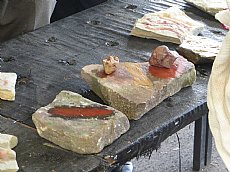 At Ness of Brodgar in Orkney where a carved stone ball was recently found, there is also evidence of use of pigments. Chris brought some red and yellow hematite (the mineral form of iron oxide). We were all amazed how easy it is to create paints just with a bit of water and rubbing the hematite against another stone. Although there is no evidence that carved stone balls were painted, it is possible too.
We also experimented with using a bow drill to drill a hole through another Neolithic type of stone object called a macehead such as an example found outside Dingwall at the Heights of Brae (above right). These artefacts are often of special stone, some stunningly beautiful. The hole must have meant that they were hafted, perhaps then to show status. Finally Chris brought a small stone axe and we helped with the smoothing, by pushing it back and forth on a coarse wet larger stone, pushing towards the sharp cutting end.
Like all previous workshops, we came away appreciating the skill of the craftsmen, greater insights in how things were made, and a suspicion that these objects were not primarily functional in nature since it would have been far simpler to use an undecorated example.
Resources
Pictures of Highland carved stone balls
Novar near Evanton
Novar near Evanton (pictured bottom left with numerous knobs)
Alness
Ben Tharsuinn
Contullich
Balnaguisich near Alness
Tarbat, Portmahomack
Greenlonachs near Culbokie
Tomnahurick, Inverness
Achness Churchyard, Creich, Sutherland
Benicheilt, Latheron, Caithness
Watten, Caithness
Caithness
Further reading
Marshall, Dorothy 1976-7. 'Carved stone balls,' Proceedings of the Society of Antiquaries of Scotland 108, pp. 40-71.
Marshall, Dorothy 1983. 'Further notes on carved stone balls,' Proceedings of the Society of Antiquaries of Scotland 113, pp. 628-646.
ScARF 2012. 'Carved stone Balls'. www.scottishheritagehub.com, Neolithic panel.
Todd, T.N. 2006. 'The aerodynamics of carved stone balls,' Proceedings of the Society of Antiquaries of Scotland 136, pp 61-74.
Macdonald, Murdo 2006. 'A note on the diameters of carved stone balls,' Proceedings of the Society of Antiquaries of Scotland 136 (2006), p. 75
Making the Ness of Brodgar Carved Stone Ball. Blog on UHI Archaeology Institute, with pictures showing the various stages in making a ball.
Ornamental Carved Stone balls. Blog on www.thebrochproject.co.uk published April 2017.
Videos
Making a Carved stone Ball with Chris Gee
2:34
Laser scan of a Carved Stone ball
1:45
A 3d photogrammetry model of Ness of Brodgar, Orkney carved stone ball
1:11
A 3D model collection of carved stone balls by Dr Hugo Anderson-Whymark
For more information about Chris and his work, see his website brodgar.co.uk
The Experimental Archaeology: Learning about technologies in the past project has been funded by Historic Environment Scotland and the Heritage Lottery Fund.
---
Add your comment below
Recent Blog Articles
Monthly Blog Archive
Sign Up to ARCH E-news