Textiles Through the Ages Workshop
Posted by Susan Kruse - 09:31 on 18 December 2017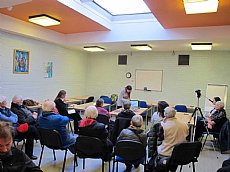 Our third workshop, held on 16th December in Inverness, focussed on textiles through the ages. Lynne McKeggie, local archaeologist and textile researcher, provided an overview of textile production through the ages, looking at fibre preparation with combs and carding, spinning with drop spindles and the drop loom and then tablet weaving. Throughout she showed us the archaeological evidence of tools, which is very sparse and tantalising due to issues of preservation both of the wooden tools and resulting textiles.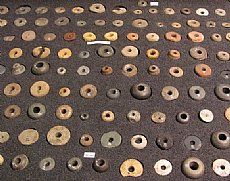 Our main evidence of spinning comes from spindle whorls found on prehistoric and modern sites. They come in a variety of materials, shapes and sizes. The wooden spindles rarely survive. This picture shows just one drawer of the many spindle whorls held in the National Museums of Scotland.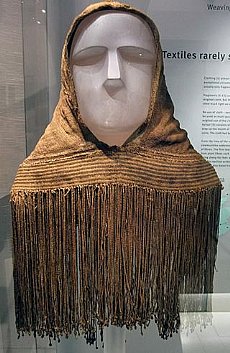 We all marvelled at a hood found in a peat bog in Orkney which dates to c. A.D. 250-615. It is the first complete bit of clothing found in Scotland. What appears at first glance fairly straightforward, is revealed to be a complex garment. Jacquie Hood created a replica, and revealed a variety of techniques used, and indeed led her to adapt her replica loom. I strongly recommend reading her article, which makes one appreciate the skill of early textile workers.
Lynne also showed us textile equipment from the 9th century Oseberg boat burial in Norway. This extraordinarily rich burial had a loom, a variety of wooden tools and a range of textiles including silk, testimony to trading of raw materials from far away. Even wooden spindles survived.
Lynne then focussed on tablet weaving, with three pieces set up for us to try out. The technique uses tablets – usually surviving in Scotland as bone, but the Oseberg burial had wooden ones – to produce woven strips used for borders or decoration. Most modern discussions of tablet weaving use square tablets with a hole in each corner.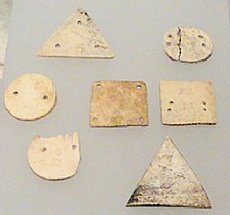 However, Lynne showed us archaeological examples from the Iron Age onwards (right) which are also triangular or round, and many, even the square ones, often have more than one hole. As she noted, there has been little attention paid to the reasons for this variety of shapes, or to the implications for weaving and resulting products.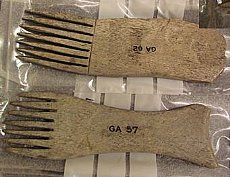 Similarly she noted that Iron Age objects published as weaving combs – generally surviving in bone but presumably also made of wood – do not often show the wear you would expect if they were only used to beat the weft when weaving. She speculated that some may perhaps have been used to comb out the wool before spinning it. More future experimental work, and looking at evidence of wear, needed here as with the tablets.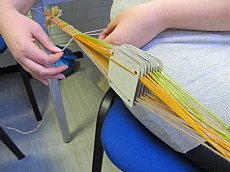 We left with a real regard for the skills of prehistoric and later textile workers, and a sense that this story needs more experimental archaeology replicating tools found in early sites.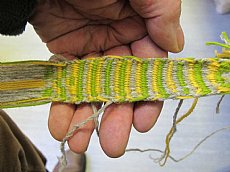 For the loans box, Lynne will produce some tablet weaving.
Further references:
The Orkney hood: an ancient recycled textile
Account by Jacquie Wood on making a replica of the Iron Age hood found in Orkney
Spindle Whorls: Ancient Tool for Weavers
The textiles in the Oseberg Ship Burial
by Anne Stine Ingstad
Early Textiles in Scotland
by Audrey Henshall
Proceedings of the Society of Antiquaries of Scotland v. 86 (1951-2), pp. 1-29. Available at Inverness Library or online.
Selected videos:
There are a number of videos on building looms, drop spinning and weaving. As one looks at some of these, particularly those related to spinning, one is struck by the variety of techniques used. Below are a few to get started with.
Using a warp-weighted loom
Rebekah J Rogers 2:51
Basic Tablet Weaving by Louise Ström Spångmurs.
In Swedish, but good pictures. 2:49
Drop Spindle spinning
Sue Day, Chedworth Roman Villa
Photos curtesy Lynne McKeggie and Alasdair Cameron
The Experimental Archaeology: Learning about technologies in the past project has been funded by Historic Environment Scotland and the Heritage Lottery Fund.
---
Add your comment below
Recent Blog Articles
Monthly Blog Archive
Sign Up to ARCH E-news