Medieval strap end from Ashaig
01 February 2012
News Type: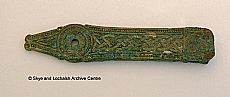 This strap end was found in a rabbit burrow at the old chapel site of Ashaig on Skye. It is copper alloy, decorated on both sides with pellet, interlace and foliate based designs. The decoration suggests an 11th century date. It is a rare survival of medieval objects of this nature in the Highlands.
The strap end would have been attached to the end of a belt or strap, perhaps for clothing or perhaps for a book strap. It shows medieval use of this site, rei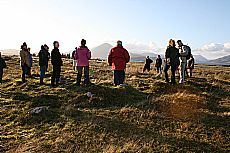 nforcing C-14 dates of some pits which have also shown evidence of medieval metalworking from the 13th century.
Ashaig was an important site for millennia. The Scotland's First Settlers project found early prehistoric lithics, and there are a number of undated shell middens. A Neolithic stone axehead was found when cleaning out the holy well situated to the east of the churchyard, and there are Bronze or Iron Age round houses and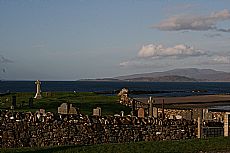 burnt mounds in the fields nearby. The date of the holy well is unknown, but could be pre-Christian. The early chapel was said to be dedicated to the early Christian missionary St Maelrubha. The placename has been interpreted as relating to a ferry, and thus perhaps St Maelrubha's ferry to his monastery on the mainland, traditionally held to be at Applecross. If the strap end was for a book strap, it perhaps relates to later ecclesiastical use of the site.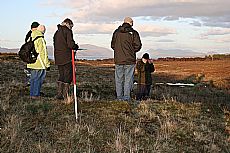 The chapel was ruinous at the time of the New Statistical Account in the mid 1800s, but had disappeared by the end of the century. Within the cemetery wall there are also hints of structures. In the fields nearby there are a number of later settlement remains – farmsteads, runrig/lazy beds, a lime kiln and bull-house, all showing the continuing importance of this site into modern times.
Further Information:
Highland Historic Environment Record MHG18619
Dataset on Am Baile website supplied by Skye and Lochalsh Archive Centre

Karen Hardy & Caroline Wickham-Jones (eds). Mesolithic and later sites around the Inner Sound, Scotland: the work of the Scotland's First Settlers project 1998–2004 (SAIR 31). Www.sair.org.uk/sair31/section2-2.html
This object featured in the Southern Skye Community Timeline display currently on display at PortreeLibrary until the 18th of February. It will then move to Raasay Community Centre until 3rd March, to Sleat Community Trust for the remainder of March, and then to Clan Donald Library at the Museum of the Isles in April. Binders with resources compiled by participants on the course are at Broadford Library and Clan Donald Library.