Munitions guard hut at Fodderty
01 May 2012
News Type: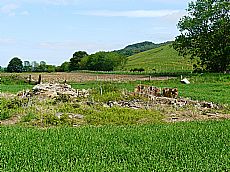 These ruins are the remains of a guard hut on the disused Strathpeffer branch rail line at Fodderty. During WWII, munitions were stored on sidings here and by the lineside at Durinish on the Kyle line. Tubes filled with munitions were laid under the sidings at both areas. In the event of an enemy invasion, the sidings could be blown up. The guard hut at Fodderty was manned by Norwegian soldiers.
Originally the railway to Skye was proposed to go via Strathpeffer and Contin. However a local landowner, Sir William MacKenzie of Coul, demanded that trains pass ¼ mile from his house in a tunnel. Clearly impracticable, the line was built further north at great expense but avoiding his land. Later a branch line was constructed to Strathpeffer from Dingwall to allow access to the expanding
spa resort at Strathpeffer. It opened in 1885, boasting through coaches from London to Strathpeffer. It closed to passengers in 1946 and freight in 1951. The line of the trackbed is still visible, and the remains of what is said to be the signalman's house at the junction are still standing, though very much a building at risk (see photo to the right).
Further information:
Mike Christensen, 'Demolition Preparations on the Kyle Line,' Highland Railway Journal no. 42
David Stirling 2006. 'Finding Fodderty', Highland Railway Journal no. 78, pp. 15-8.

Sites along the Kyle line were investigated by ARCH classes in 2010 and 2011. A large display and binders of work created by the classes can be seen at the Friends of the Kyle Line Museum on Kyle station. Binders are also available at libraries along the route. A class is currently putting together a leaflet of sites, buildings and finds along the route, and will create some MP3 commentaries telling focussing on the heritage along the line.