Come and Delve into the Past
06 July 2012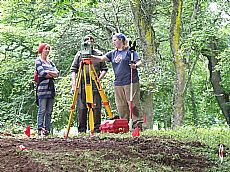 'Delve into the Past' is returning to Foulis, near to Evanton for a second season of digging.
The pre-excavation work and dig will be led by archaeologists Lynne and Lachlan McKeggie who are looking forward to sharing their knowledge and enthusiasm with this year's ARCH delvers.
Last year not even the best attempts of a Scottish summer could dampen the spirits of the excavators, and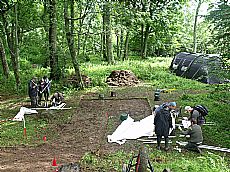 by the end of the dig they had found that the Foulis mound is probably a constructed feature, possibly a 'moot' or meeting site where locals would gather to share news and try criminals. This year's excavation hopes to unravel the secrets of this intriguing site!.
The finds recovered both through a pre-excavation metal detecting work, and during the excavation, showed that the site was a hive of activity in more recent times too. The recovery of a gorgeous 18th century copper shoe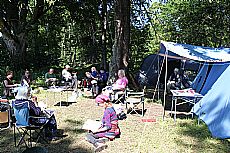 buckle, a soldier's lead stylus and a variety of musket balls may well be remainders from the period of the Jacobite rebellions. At this time, the Munros will have mustered and coordinated training and billeting for troops on the Government side. More digging will be needed to find out if last year's interpretation holds true, and to see what other clues to the past may lie in finds
from the site.
All the classes and the dig are open to everyone, and people can come along for the whole experience or just join us for a few days. No previous experience is necessary, just an interest in learning more about the past. We also want to make sure that parents with younger children are able to come along - and so there's free child care to anyone who needs it. All we ask is that people who'd like to use childcare book it well in advance. We're also able to provide transport from Dingwall, so we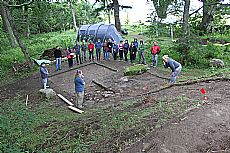 hope that this will help some people out too. There's a limit on numbers for the classes and dig, so anyone who'd like to come along would be advised to get their booking in soon!
Pre- excavation classes will be held in Alness Heritage Centre on Thursdays on 28 June, 5 and 12 July from 18.30 - 21.00, and there'll be a site
visit on Sunday 8 July from 13.00 - 16.00 (tbc).
The Foulis dig is on from 14 - 29 July from 09.30 -16.30 (with days off on 19 and 24 July) and there's an open day on Sunday 22 July from 12.00 to 15.30.