Petty Church
01 February 2013
News Type: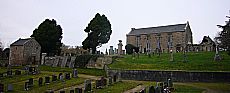 The church at Petty dates to 1839, but is on the site of a church dating to 1769, and the site is certainly older still. The parish of Petty was said to have been joined to Breachlich around 1500. Its location near to Castle Stuart, with enigmatic mounds nearby which may be a medieval motte, suggests an old settlement. Today the church is not in use, and is on the Buildings at Risk register.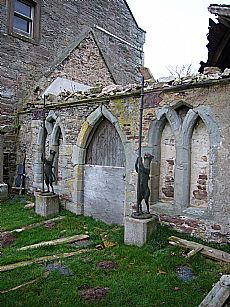 At the eastern end of the Church is an earlier mauleum, dating to c. 1686. It is now in a perilous state, and is also on the Buildings at Risk register. A pair of cast-iron cats bearing banners standing on stone plinths are on either side of the mauoleum entrance. Known as the Mackintosh vault, documentary evidence records that Lachlan Mackintosh of Kinrara (Alvie Parish, in Badenoch and Strathspey) left "500 marks money ... for building ane chapel of esslar (ashlar) work at easter gable of kirk of Petty to be ane burial place for Lairds of Mackintosh and their ladies ... to be erected within 18 months of decease" (quoted on the Buildings at Risk register). The cats are in the crest of the Mackintosh family and Clan Chattan.

In the churchyard there is also a surviving Watch House dated to 1825. In the 19th century, corpses were stolen and sold to people interested in anatomy. The Rev. W. Fleming in West Calder wrote in 1821: 'Few burial grounds in Scotland, it is believed, have escaped the ravaging hands of resurrection men; and it is reported that with respect to a church-yard not far from Edinburgh, that, till within three years ago, when the inhabitants began to watch the graves, the persons interred did not remain in their graves above a night, and that these depredations were successfully carried on for nine successive winters.' (quoted on the Echoes of the Resurrection Men website). In response to this threat, many graveyards erected watch houses, so that the graveyard could be guarded. Other deterrence elsewhere included placing heavy stones (mortstones) on top of graves, which would be removed at a later stage, coffin collars and mortsafes (iron structures enclosing the grave).
Further Information:

Highland Historic Environment Record HER MHG31452
Canmore id 14246
Buildings at Risk Register for the church and mausoleum

For watchhouses, including a map showing examples in Scotland, see Echoes of the Resurrection Men


An ARCH course, funded by High Life Highlands, will be exploring Ardersier Heritage in February and March. Part 1, on Tuesday and Thursdays, 7-9:30pm, will provide a heritage overview from Mesolithic times to the present with examples from the area. In Part 2, on Saturdays, 9th -30th March, 10am-1pm, there will be opportunities to research showing sites, finds and buildings of interest. Further details in the Events section of the website. All welcome!