Poison Bottle from Skye
01 April 2013
News Type: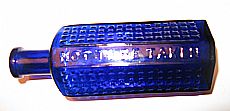 This bottle was found in a rubbish tip, along with other medicine, alcohol and domestic bottles, oyster shells and other rubbish at Corry Lodge near Broadford on Skye. It originally contained poison, as the caption 'Not be be taken' shows. The ribbing and distinctive texture is another clue, designed to make sure people reaching for such bottles recognised them as containing dangerous substances. Such bottles are found throughout Skye, and indeed elsewhere in the Highlands. It probably dates to the 1900s.

Style, type of manufacture and other factors allow many bottles to be dated. Storage of liquids in glass has a long history, with earlier bottles being hand-blown. Wooden moulds began to be used in the 18th century, and many styles of bottles were subject to patents. Fully machine-made bottles, with the mould seam running through the lip date from the 1920s. Many bottles have inscriptions, providing evidence of commercial activities in a number of Highland areas.

Further information

There are a number of bottle collecting books and websites, mainly aimed at the collector. These includei:

www.britishbottleforum.co.uk
www.onlinebbr.com/home/
Rob's Famous Poisons website www.collectiques.org/rob.htm
www.poisonbottleclub.org

Litherland, Gordon. Bottle Collecting.
Hedges, A.A.C. 1975. Bottles & Bottle Collecting (Shire Publications)
Polak, Michael 2012. Antique Trader Bottles Identification & Price Guide.
This object featured in the Southern Skye Community Timeline display