Winter courses starting in January
10 January 2017
New and continuing courses start this month!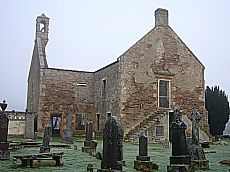 Kiltearn Old Kirk
ARCH will be running a number of courses for the Evanton Community Trust's project to research Kiltearn Old Kirk. Surprisingly little is known about the striking ruin on the shore, yet for centuries this was the parish church for Kiltearn.
Over the next year there will be a number of activities, including researching old documents, conducting a graveyard survey (which has not been done before), learning how to do family history searches, and then researching various people associated with the kirk and parish, conducting a standing building survey, and pulling it all together for a signboard to be erected on the site.
The first activities during these cold months will be exploring documents relating to the kirk and parish. Some are in books, some on the internet, and some in private archives and in the Highland Archive Centre in Inverness. The first four meetings will be on Mondays, 23rd January – 13th February, 7-9:30pm at Cornerstone Café in Evanton. At these sessions we'll then set times to explore other archives. All welcome – events are free. For further information, or to be put on the mailing list, contact Susan on info@archhighland.org.uk or 077888 35466
Telford in Badenoch and Strathspey
Join us to research Telford's impact, explore some of the surviving remains, and create a display.
Thursday, 19th Jan, Inverness Library 1-4pm. We'll look at Commissioner's Reports, Telford's autobiography and wonderful atlas, Southey's account of travels and much more.
Thursdays, 26th Jan – 9th March, Grantown Museum, 1:10-3:40. We'll continue our research, look at remains on the ground, and pull everything together for a display.
Free – all welcome. No experience necessary – just an interest. Funded by Historic Environment Scotland.
Historic Maps Workshops
Old maps are fascinating! ARCH will be running three workshops providing an opportunity to explore old maps from the 16th century onwards on the National Library of Scotland website maps.nls.uk. Hands-on if you want (computers supplied or bring a laptop), or you can just observe the screen. Warning: this website can then become addictive!
Fri 17th Feb 10-1, The Hub, Fort William
Wed 1st Mar 10-1, Seaview House, Lybster
Fri 3rd Mar, 1-4, Dingwall Community Centre
Free – all welcome. Please book on 077888 35466 or info@archhighland.org.uk to ensure adequate computers and in case of bad weather.
Funded by Historic Environment Scotland.