Jadeitite axehead from the shore of the River Spean
03 January 2019
News Type: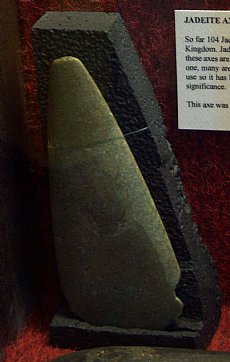 This Neolithic stone axehead was found on the shore of the River Spean in 1890 and is presently on display at the West Highland Museum in Fort William. It is made from jadeitite (commonly known as jade), a stone from the Alps, smoothly ground to give a translucent sheen. Like many of the polished Neolithic axeheads, it clearly was not meant for utilitarian work.
Axeheads made of jadeitite and other Alpine rocks appear to date from the early Neolithic, brought over from France as heirlooms by new immigrants between 4000 and 3800BC, along with the carinated bowl pottery tradition (ScARF 2012 sections 3.3.1.1, 5.2.2). They have been found thoughout the U.K. and Ireland (see map in ScARF 2012, section 3.3.1.1 or Sheridan et al 2011, 413), with c. 30 from Scotland (ScARF 2012, section 5.2.2). Other Highland finds include a fragment from railway stores in Inverness (MHG3831), and complete examples from Daviot (MHG2888), Berriedale in Caithness (on display in IMAG), and possibly from near Dunrobin Castle (MHG13343) and Thurso (MHG51891).
A French-led project involving Alison Sheridan of the National Museums of Scotland has investigated jadeitite axeheads in Europe, and a followup project – Jade 2 – is currently underway. This has revealed much about the raw material sources, and has included research into typologies, chronologies and deposition contexts (ScARF 2012 section 5.2.2; see also link below).
Further information:
ScARF 2012. Neolithic panel report ed. Alison Sheridan & Kenny Brophy
MHG4288 HER record on the River Spean example
NMS Website: Stone Age jade from the Alps
Sheridan, Alison et al 2011. 'Old friends, new friends, a long-lost friend and false friends: Tales form Project JADE,' in Davis, Vin and Edmonds, Mark (eds), Stone Axe Studies III, Oxford: Oxbow Books, 411-426. (Available in the NoSAS collection, Dingwall Library)