Experimental Archaeology Learning Materials now available online
09 December 2019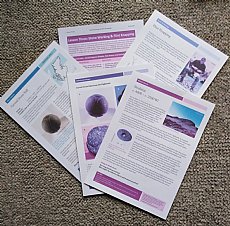 A suite of learning materials focussing on the Experimental Archaeology loans boxes is now available online! The Experimental Archaeology project produced four loans boxes, and a range of learning materials have been written to help people use them. These include:
Information Sheets - A4 sheets with information about chronology, crafting technologies represented by various artefacts and sheets relating to the objects in the boxes.
Lesson plans for using the boxes in schools. There are 10 lessons, each with five levels from nursery to upper secondary, as well as lessons centred on the individual objects. There is also a self-led lesson for adults, and a template for people to add activities.
Although the resources focus on the objects in the boxes, which for the most part were modelled on finds from the Scottish Highlands, they can be adapted and used by others, including with other loans boxes, other lessons, or even by people just interested in learning about different periods and crafts, for example volunteers in museums.
The project also produced videos of various crafting techniques as well as blogs which reflect on the workshops and provide links to other resources. Links to all of these can be found by clicking here.
Further information about the project, with links to all the resources, is available by clicking here.