Bronze Age Sword from Fendom near Tain
01 March 2020
News Type:

This sword was found at Fendom near Tain. No further details are known about its discovery, although a number of finds from prehistory onwards have been discovered over the years near Fendom Sands (see HER MHG60225). The sword is incomplete, missing its hilt, although rivets for attaching it still survive. It dates to the late Bronze Age, c. 1000-800 BC.
Advances in metalworking techniques during the Bronze Age allowed for longer and more elaborate weapons. Such weapons could be used on foot or horseback. They were also certainly items showing prestige.
A number of swords have been found in Scotland, many of them in hoards. From the Highlands six swords have been found from Skye: in the Point of Sleat hoard (MHG5197), Moss of Lyndale (MHG5820), Waternish (MHG4838) and four other examples known only to be from Skye (MHG13874; Cowie and O'Connor 2007, 327-328). Elsewhere examples are known from Inverboom in Wester Ross (MHG7828), Ardintoul, Lochalsh (MHG9234), Lynegar, Caithness (MHG51808), Forse, Caithness (MHG1847), Culloden, Inverness-shire (MHG3015, Clark et al 2017 no. 1260) and on Muck (MHG3982).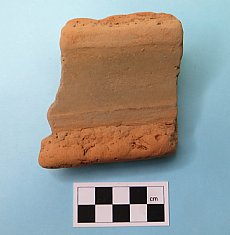 Excavations at Seafield West near Inverness uncovered clay mould fragments used in the casting of swords, a rare survival of manufacturing evidence, and important evidence showing local production and expertise (Cowie with Eremin 2011, 24ff).
The number of finds of swords is striking, as is the geographic spread in the Highlands. Clearly people of high status througout the Highlands had access to these elite objects.
The Fendom sword is in the National Museums of Scotland (X. DL 52)
Further Information
Clark, Graham, Cowie, Trevor and Kruse, Susan 2017. Feats of Clay. Bronze Age metalworking around the Moray Firth, no. 125. Published by North Kessock and District Local History Society.
Cowie, Trevor with Eremin, Katherine 2011.'Fragments of Bronze Age sword moulds' in Cressey, Michael and Anderson, Sue 2011 'A Later Prehistoric settlement and metalworking site at Seafield West, near Inverness, Highland', Scottish Archaeological Internet Reports 47.
Cowie, Trevor and O'Connor, Brendan 2007 'Late Bronze Age swords from Scotland', in Burgess, Christopher et al (eds) 2007 Beyond Stonehenge. Essays on the Bronze Age in honour of Colin Burgess, Oxbow Books: Oxford, 316-334
Highland HER MHG8521 for the Fendom Sword. Information about other Highland finds can also be found on the HER . Search using the MHG number.
ScRAN dataset for the Fendom Sword