Medieval boot and hose from Portmahomack
01 May 2020
News Type: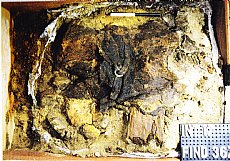 A late medieval burial dating from the late 14th / early 15th century from Portmahomack of a man, aged 46 years or older, preserved low boots and woollen leg hose beneath the collapsed wooden slats of a coffin, providing a rare example of a clothed burial from Medieval Scotland. Other burials at Portmahomack show evidence of shrouds, but this was the only one with clothing and shoes (Carver et al 2016, 297, 302).
The boots are in a fragmentary state, but enough survived to show that they were of a type called turnshoe, where the shoe was put together insight out and then turned rightside out when finished. The uppers were attached to a single sole, and appear to be a one-piece design. They were fastened by two straps and a buckle. The straps are no longer attached, but were found attached to a round copper alloy buckle. There are few parallels of boots with straps and buckles, with the best examples from London. These suggest a 15th century date. In a few places elsewhere, evidence of lining appears. In general, Medieval burials with shoes are not common (Thomas 2016).
The remains of woollen hose were also found, again a very rare find. They showed evidence of use, suggesting they had been worn during the man's lifetime. The hose was made of an undyed, heavily felted wool tabby (plain weave). The tabby weave again supports a late 14th /15th century date, as examples elsewhere suggest Medieval clothing was generally of tabby weave in the late 14th -16th century. Before that twills were more common. Cloth hose in turn was generally superseded by knitted stockings in the 16th century (Walton Rogers 2016).
Altogether this burial provides valuable evidence of clothing in the late 14th / early 15th century, a rare dated survival from Scotland. It also shows an unusual burial tradition.
Further information
Carver, Martin, Garner-Lahire, Justin, and Spall, Cecily 2016 Portmahomack on Tarbat Ness. Changing ideologies in north-east Scotland, sixth to sixteenth century AD, Society of Antiquaries of Scotland: Edinburgh.
Thomas, Clare 2016 'Digest 6.16 Medieval Leather Footwear', in Carver et al 2016, D122-D124.
Walton Rogers, Penelope 2016 'Digest 6.17 'Medieval Textile', in Carver et al 2016, D125