Caird's Cave Pin
01 January 2009
News Type: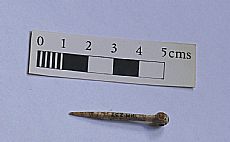 This bone or antler pin was found during excavations of Caird's Cave near Rosemarkie by Dr MacLean, a local medical doctor, in the early 20th century. The pin is an exquisite object, carefully made with amber settings in the head. From its style, it has been dated to the Pictish period, probably the 8th or early 9th century.
The pin was found with two other undecorated pins, a small number of bone tools, and a variety of raw pieces and cut and worked fragments, suggesting that bone working occurred in the cave. In addition, there were some plain stone balls, the function of which is unknown.
Dr Maclean was a local antiquarian and collector. When he died his widow donated his collection to the National Museum of Scotland in Edinburgh, where the pin and the rest of the collection are held. The Groam House Museum in Rosemarkie will feature an exhibition on Dr Maclean and his collection in spring of 2010. ARCH is a partner in this project, and will be facilitating eight Display the Past sessions offering participants the opportunity to learn how to research objects, and then design and create a display. If you would like to take part, please contact us!
Further Information:
For information about Dr Maclean, see the iterations website created by Chris and Dave Rendell.
For a discussion of the pin, see Sally Foster's article 'Pins. combs and the Chronology of Laer Atlantic Iron Age Settlement,' in Ian Armit (ed.) Beyond the Brochs: Changing Perspectives on the Later Iron Age in Atlantic Scotland, Edinburgh: Edinburgh University Press, 1990, 143-174.