Strathpeffer 'Depot'
01 June 2011
News Type: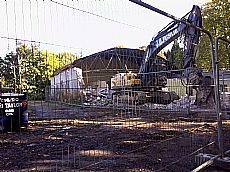 This picture shows the last moments of a building in Strathpeffer. Before demolition in 2010 it had a long history of varied use, although it had never received much attention, and no legal protection. With maps, a sales prospectus, and, most importantly, memories of local people, some of its history can be reconstructed.
It is shown as a steading to go with Ardival House on the first edition OS map of 1876. At that time it was a U-shaped steading with an additional rectangular building along its west side, and a small building and what may be pens along its open (north) side. On the 2nd edition map (1906), it seems to have been roofed over to form a single unit. It was a coaching stables prior to the introduction of motor vehicles, the carriages occupying one side and the horses the other, with the coachmen and stable boys living above. In the 1920s, the garage was operated by Willie Kennedy.
One former resident of Ardival House remembers that the garage burnt down about 80 years ago, destroying 7 carriages. This was probably when the curved corrugated iron roof, so reminiscent of a WWII Nissen hut, was put on. A plumber and a mason worked from the east end of the building after the fire. This is how it appears in a 1949 sales prospectus for the Cromartie Estate, when it was in use as the Ben Wyvis Garage, run by Messrs. Logan & Co. At that time there was also a painter's shop and store, let to Mr Ross, between the garage and the Dingwall road. This was later occupied by Robertsons, Joiners. When the Logans moved to Muir of Ord, they took the name with them, and the garage became known as Ben Motors. It remained in use as a garage, run by Bill Gilbert, until 1953, when it was taken over by the then County Council as a roads depot and signshop. It is annotated as 'Depot' on the current edition of the OS map. The corrugated iron roof had become rather dilapidated by the time the building was demolished in October 2010.

The information about this building and many others in Strathpeffer was collected in ARCH's Remembering Strathpeffer project, funded by Generations Working Together. The information has been submitted to the HER, and reports are available in Dingwall Library, Strathpeffer School and Strathpeffer Community Centre, and on this website in our Library. Information obtained in the project will also be linked to old photographs of the Strath, on display at Strathpeffer Pavillion for Victorian Day on 11 June 2011.