Foulis Coin
01 August 2011
News Type:
One of the finds from our recent excavation at Foulis was a Geroge III 'bullhead' coin. It was found in the initial metal detector survey by Eric Soane of the Highland Historical Search Society near the mound that our excavation focused on.
The coin is interesting because it was first minted in 1816 and 1817 but this particular design was removed in 1818. This particular 'bullhead' design depicted the right profile of George III designed by Benedetto Pistrucci. The large laureate head with bare right shoulder was not particularly flattering and was met with public outcry, causing its withdrawal from circulation.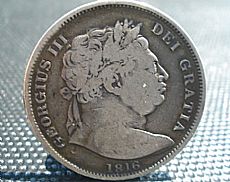 This example has been cleaned and demonstrates the 'offensive' profile of George III.
These coins were produced at the new Royal Mint at Little Tower Hill using the new steam, powered machinery installed by Bolton and Watt.
This very short production period hints that the coin may have been dropped at Foulis in this short time period in the early 1800's, although it is impossible to rule out later loss. It represents a superficial topsoil layer at the site that consisted of disturbed and relatively recent deposits from the last few centuries of activity on this site. Perhaps it was dropped by a member of the Munro family on a walk through the grounds or by a traveler passing through the region.
Beyond its significance at our site, it represents an interesting time in the history of British coinage. After shortages of silver and gold during the Napoleonic Wars had caused a shortage in coinage in Britain there was pressure to move to coins based purely on the gold standard at the time. This basically meant that for the first time silver coins value were not based on the value of the metal that they contained – the beginnings of modern British coinage.