Blake Marsden Rock Crusher, Raven's Rock
01 November 2011
News Type: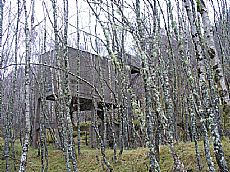 The remains of a Blake Marsden rock crusher are clearly visible beside the Kyle railway line between Dingwall and Garve at Raven's Rock. A quarry was opened at the narrow pass at Raven's Rock in 1923 to satisfy the demand for high quality stone for the 1920s road building. After a local landowner refused road access from the east, six sidings were made on the rail line, two passing under stone crushers. The quarry ceased working in 1939 and the sidings were removed in 1952, leaving one rock crusher behind.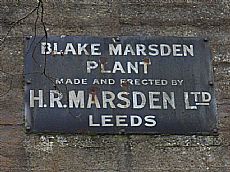 Blake Marsden rock crushers were made in Leeds, and exported over the world. The design was patented by W. E. Blake in 1858, and later improved by Marsden. The machine crushed the rock ore by direct pressure between a fixed plate and swinging jaw. The crushed rock was then loaded onto rail wagons, and at the Raven's Rock quarry a train with 10 loaded wagons was dispatched daily at a time decided by the Achterneed stationmaster.

The rock crusher is on the south side of the line as the line goes through the steep pass. Look carefully - it flashes by quickly on the train!

Further information:
John Thomas 1990. The Skye Railway
Nevill A. Ritchie and Ray Hooker 1997. 'An Archaeologist's Guide to Mining Terminology', Australasian Historical Archaeology 15, p. 17. Available at http://www.ashadocs.org/aha/15/15_04_Ritchie.pdf
'Crushing'. Publication from Geevor Tin Museum, 2009. Available on-line at www.geevor.com/media/Crushing.pdf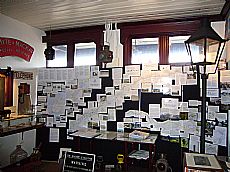 This site was featured in the ARCH Heritage Along the Kyle Line: Lochluichart to Dingwall display. The panels from the display are now at the Friends of the Kyle Line Museum, Kyle Railsay Station, where they have been joined to the displays from the first two ARCH Heritage Along the Kyle Line courses. Worth a visit!