Medieval Annular brooches from Speyside
04 January 2012
News Type: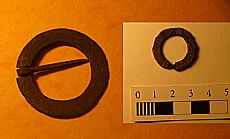 These two bronze annular (ring) brooches are recent finds from Castle Grant near Grantown and Nethy Bridge on upper Speyside. Both are decorated with lines and geometric ornament, with the larger from Castle Grant still preserving its pin. They probably date to around the 13th century. The decoration on the tiny brooch from Nethy Bridge is paralleled on several finds from Easter Ross and down into Aberdeenshire, and perhaps represents a regional style.

Used to fasten clothing at the neck, such brooches became fashionable from c. 1200 onwards throughout Europe. Although their use declined elsewhere after c. 1400, they continued to be used in the Highlands., becoming larger and gradually evolving into the large annular 'Highland brooch' of the 16th-18th centuries.

Both brooches show people living in the area in the medieval period, and presumably represent casual losses. While some contemporary annular brooches are in precious metals, these two examples show the fashion also was accessible to those not able to afford silver. Both brooches are held in Inverness Museum.
Further information:
Treasure Trove report for TT.70/06, available in Inverness Museum
Shiels, Jenny and Campbell, Stuart 2011. 'Sacred and banal: the discovery of everyday medieval material culture,' in E.T. Cowan and L. Henderson (eds), A History of Everyday Life in Medieval Scotland 1000-1600, pp. 71-2.
Glenn, Virginia2003. Romanesque & Gothic. Decorative metalwork and ivory carvings in the Museum of Scotland. (showing examples of silver annular brooches)

These brooches were featured in the Upper Speyside Community Timeline display currently on display at Boat of Garten Village Hall until 15th February. The display can be viewed any time the hall is open. Members of the class will be on hand on Tuesdays, 11:00 to 14:00 with the binder of resources.