Carving Pictish Stones [1]
Posted by Susan Kruse - 13:00 on 21 May 2018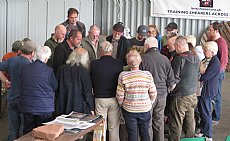 It was a bustling turnout for our Pictish carving workshop in May 2018. Local sculptor Barry Grove spent over 5 years working on a reconstruction of the Hilton of Cadboll Stone – so was well qualified to speak about Pictish designs and craftsmanship.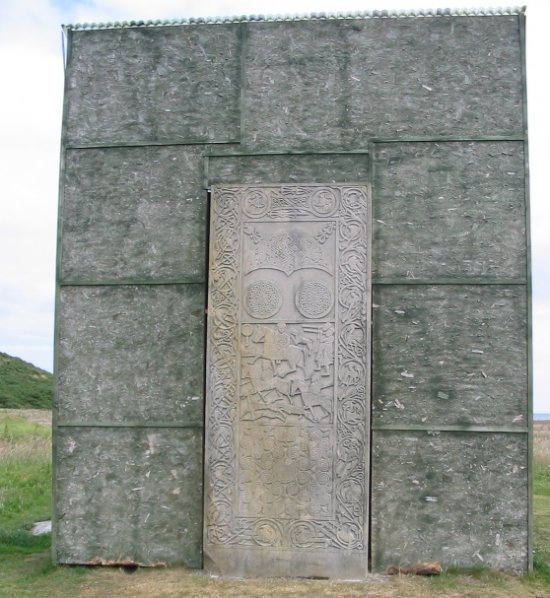 Barry began by telling us some of the background to carving the reconstruction. Today the original is in the National Museums of Scotland in Edinburgh (and despite its size it travelled widely before ending up there), with Barry's carving erected on the site of the original at Hilton, Seaboard villages. Originally carved c. A.D. 800, in 1676 the cross side of the large slab was chipped off (much to Barry's disgust!) for a local laird to re-use as a grave monument for himself and his three wives. For this side his imagination and understanding of Pictish design was required.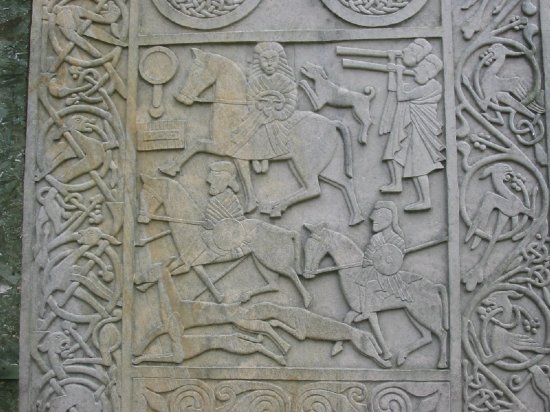 Even the early stages – sourcing stone which was large enough – was a challenge, and shows the expertise of the craftsmen who knew not only where to source large pieces of stone, but also the time and skill to prepare the stone. Although of local sandstone, it would have been a daunting task to transport it.
Working on the reconstruction gave Barry a number of insights into the techniques. He highlighted the importance of getting the design right – task which took him over a month, and would also have been a time-consuming task originally. Then there was the issue of whether to carve it horizontally or vertically. For a stone like Hilton of Cadboll, which has carving on both sides, this was an important issue. And then there was the time to do the painstaking carving.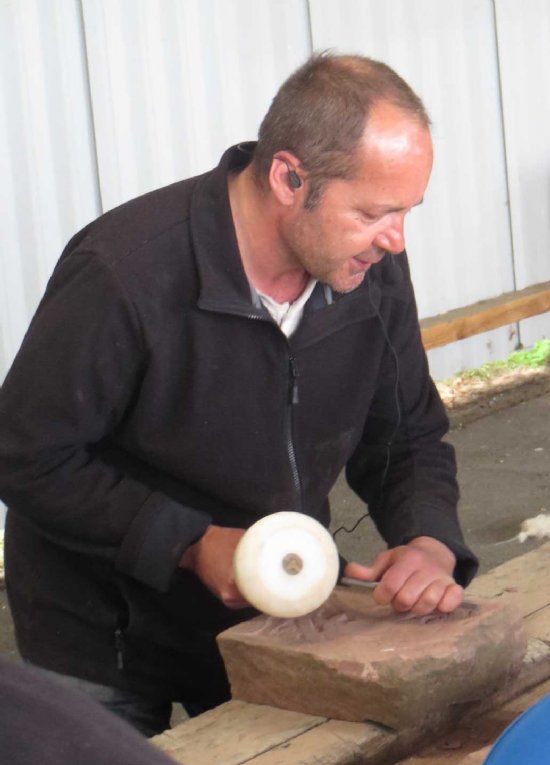 No Pictish tools survive. At our Iron Age bonecarving workshop, Jim Glazzard used a Viking tool box as his basis for the iron tools. The Hilton of Cadboll stone also provided some evidence. It snapped and blew over several centuries ago, and the remains of the base and lower areas of carving became buried. During investigation before erecting Barry's replica, an excavation found the base – providing evidence of design and techniques. Because it had been buried, some of the chisel marks were clear. The base currently is housed in the Seaboard Memorial Hall in Balintore.
A number of abstract symbols and naturalistic carving decorate the Hilton of Cadboll stone. Other resources at the workshop provided pictures and sketches of other motifs used on these stones throughout northern Scotland. Their meanings are still debated – perhaps language, perhaps symbolic or status. Some of the carved stones with symbols but no cross are associated with graves found during this period, and many of the cross-slabs with Pictish carvings may also have a similar function. Martin Carver speculates that the Hilton of Cadboll stone, along with the splendid cross slabs at Nigg and Shandwick, and another fragmentary one from Tarbat, may have also functioned to mark the precincts of the Pictish monastery.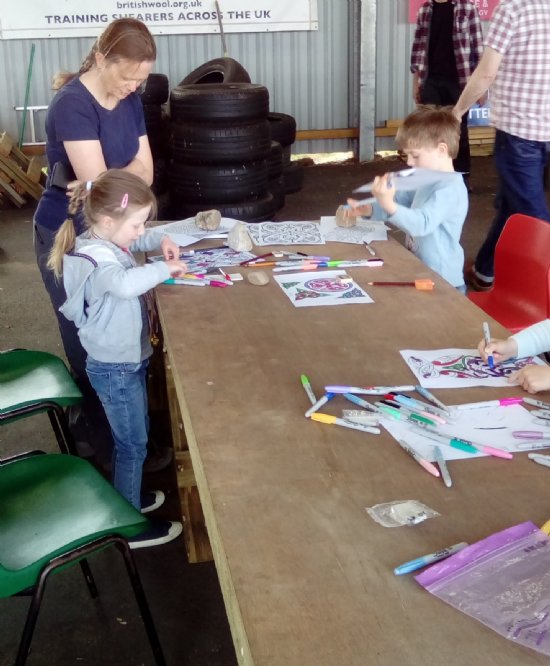 Pigment survives on some Pictish stones. This would have been resulted in a very different impression from what we imagine now. At the workshop we had some patterns and coloured pens, trying to gauge how this might have looked.
There was also plenty of time to have a go. Barry had brought some red sandstone slabs, and we tried with chisels and mallets to smooth the stone and then recreate some of the designs. As ever there was appreciation for the skills, especially for motifs
with curves (and there are quite a number). We came away with an appreciation of the craftsmanship but also the artistic impact. Barry believes that the craftsmen saw themselves as artists, creating public monuments to last for generations. What, he asked, will be our legacy in this internet age?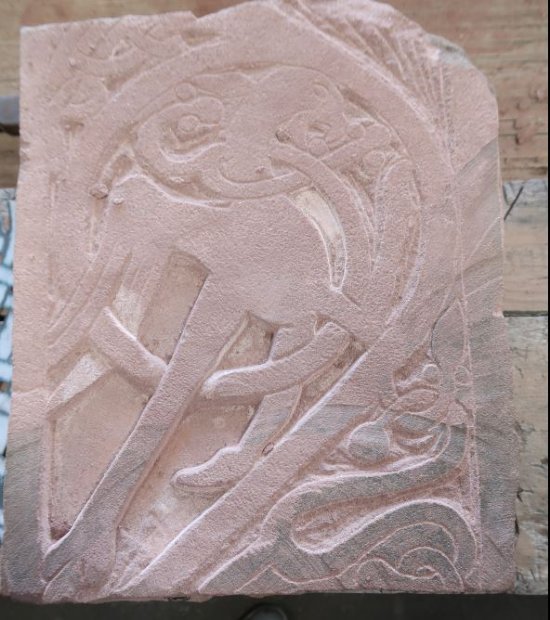 For the loans box Barry is making a replica of part of the Hilton of Cadboll interlace pattern on the border.

Other Resources
Further reading
Carver, Martin 2005. Surviving in Symbols. A visit to the Pictish Nation. Overview on the Picts
Close-Brooks, Joanna 1989. Pictish stones in Dunrobin Castle Museum. Illustrated catalogue of the many fine stones held in Dunrobin Castle Museum, most from Sutherland.
Foster, Sally M. 2004. Picts, Gaels and Scots. Good overview on the Picts
Fraser, Iain 2008. The Pictish Symbol Stones of Scotland. Illustrated catalogue of all stones with symbols.
Henderson, George and Isabel 2011. The Art of the Picts: sculpture and metalwork. Detailed discussion by the experts on Pictish art.
The Highland Pictish Trail. A guide to Pictish sculpture from Inverness to Dunrobin. Leaflet published by Highland Council. Out of print, but available on the internet.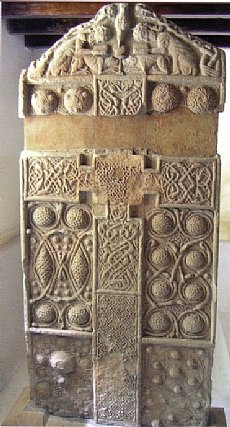 Highland museums with good collections
Groam House Museum, Rosemarkie, houses a fine collection of Pictish stones, and their website illustrates and discusses them. The museum also houses binders with photographs of Pictish stones found elsewhere.
Tarbat Discover Centre, Portmahomack, also has a fine collection, many uncovered in the excavations by Martin Carver and his team. Their website has some illustrations and pictures.
Inverness Museum and Art Gallery has a small but interesting collection of Highland Pictish stones on display. Few, however, are depicted on their website.
Dunrobin Castle Museum. There is a small museum in the grounds of Dunrobin Castle, Golspie, with a fine collection of stones. These are published in the small booklet mentioned above.
Images online
SCRAN has a large number of images of Pictish stones, many from the Highlands.
Websites
British Museum: Teaching History with 100 Objects. A number of resources including images and videos relating to the Picts
Hilton of Cadboll stone (National Museums of Scotland website). Pictures and information
Barry Grove's website
Videos
Barry Grove describes carving the Hilton of Cadboll stone and its inspiration as a signet for Glenmorangie
2:12
The Experimental Archaeology: Learning about technologies in the past project has been funded by Historic Environment Scotland and the Heritage Lottery Fund.
---
Add your comment below
Recent Blog Articles
Monthly Blog Archive
Sign Up to ARCH E-news