David's Fort
01 December 2010
News Type:
This fort is a moated site located in Balavil Wood between Muir of Ord and Conan. This site is likely to be medieval in date (the medieval period spans from approximately 1058 – 1559 AD). The site is trapezoidal in plan and is situated on a small natural rise. The origin of the name 'David's Fort' is unknown.
The site is currently covered in trees and consists of a large moat filled with water and debris. An exterior ditch forms a defensive perimeter around an area covering roughly 750m². Here is a picture of the northwest corner of the platform and the moat: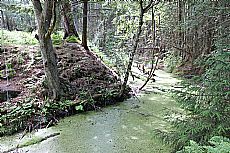 A depression in the north-west section of the outer ditch has been interpreted as the location of a draw bridge or some other form of entrance-way to the interior. The interior has no major features other than a small depression in the ground surface, although this is attributed to an uprooted tree.
The site at David's Fort would likely have been further fortified by timber structures in the interior, evidence of wooden palisade-like structures has been found at similar sites elsewhere in Britain. This is one of several similar sites in the Easter Ross region. Many thanks to Ronnie Scott for giving permission to use his reconstruction drawing to help represent a possible interpretation of what the moated site would have looked like: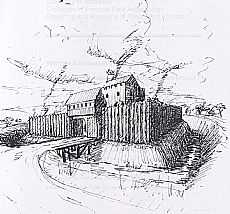 These types of sites are often associated with domestic power centres, where high status people with power and influence in the area would have lived. Its location, with good accessibility to land and water routeways in the area is perhaps a result of the local community travelling to this social centre to trade, pay taxes and settle disputes.
This site was studied as part of the Pathways into the Past Project, more information on this site and others covered by the project can be found in the exhibition outside Muir of Ord Library entrance. The exhibition will remain in this location until mid-February.
Other sources of information include:
HER ID: MHG8986
Article in Beaton, Angus, J. 'Notes on the Ancient Fortifications in the Black Isle, Ross-shire'
RCAHMS Record 12866