Curling Stones from Tomatin
01 February 2011
News Type: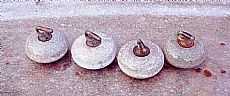 These curling stones were used on Tomatin's curling pond. The sport of curling dates back to late medieval times. By the second half of the 19th century it was Scotland's most popular sport, and involved all classes of society. In 1838 The Grand Caledonian Curling Club was founded, with 28 clubs; 25 years later it had expanded to 355 (Smith 2004, p. 557).
Some curling stones are plain, but others are very ornate. One of the stones pictured here has the owners' initials. The Highland Folk Museum at Newtonmore has a large collection of curling stones, as well as a replica of the Newtonmore curling club hut.
Many communities in the Highlands had curling ponds, usually with a small hut for storing equipment. Sadly the majority of these are derelict, overgrown or no longer survive, and many have been forgotten. If you know of curling ponds in your community, do e-mail us and tell us about them!
Further information:
David B Smith 2004. 'A pair of presentation curling stones – Abercairney 1864', Proceedings of the Society of Antiquaries of Scotland 134, 557-562.
John Kerr 1890. History of Curling.
Thanks to members of the Tomatin Community Timeline classes who investigated the local curling pond and supplied the pictures.